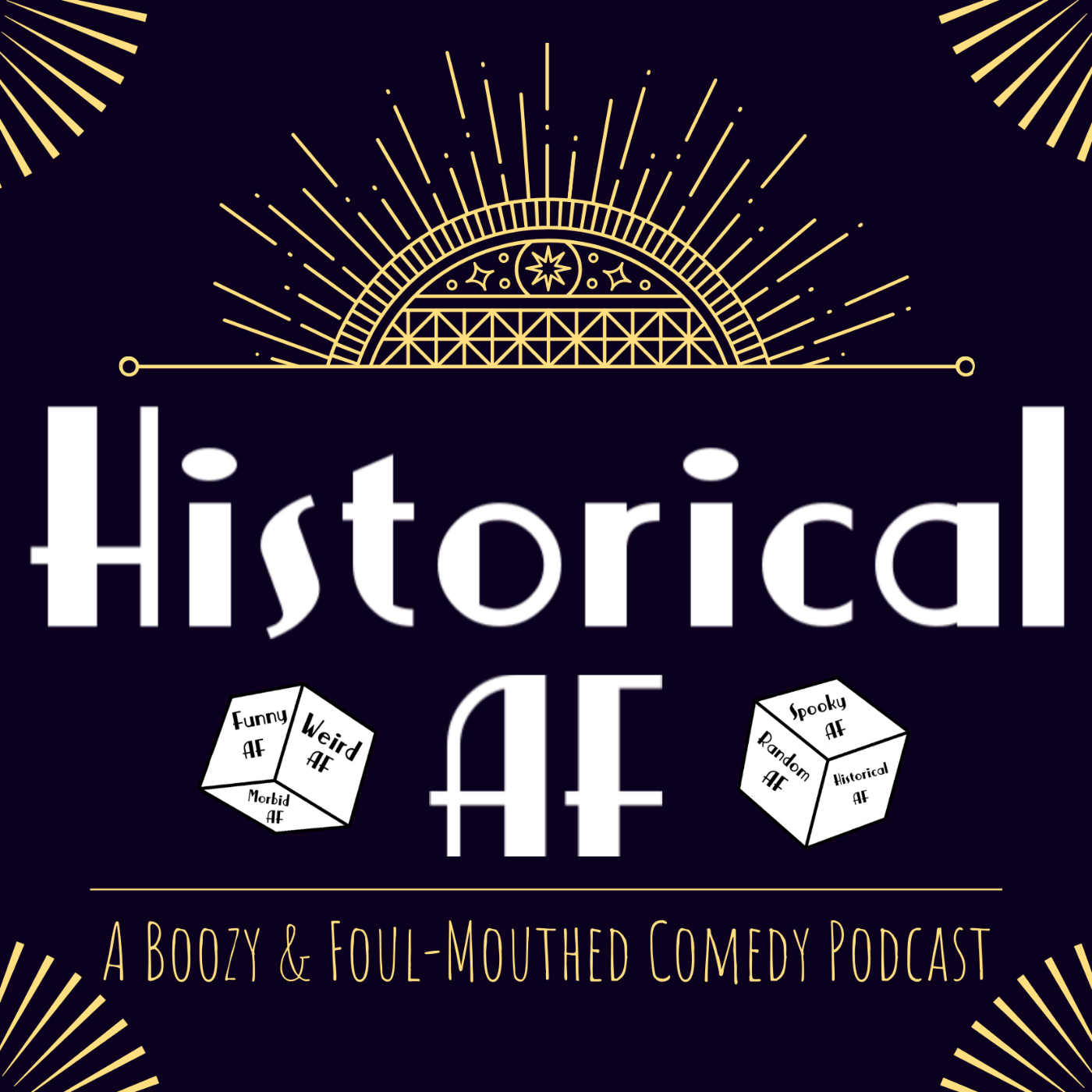 Warriors have arrived! Join us this week with special guest Shelby for some morbid, random, and funny historical nuggs about ANIMALS. We kick it off with some animal attacks, follow that up with the Chinese Zodiac, and round out the episode with some funny animal stories. 
To purchase our SIP (Stay in Place) merch for charity, click here!  https://shop.spreadshirt.com/historicalafpod/sip+(stay+in+place)?idea=5e99e27a1cbf3a62d8eb81a4
Join Patreon NOW to be entered in a drawing to win a haunted history starter kit and to see the episodes LIVE!
Want to send us stuff like a postcard or letter? Now you can!! 
P. O. Box 1141 Seguin, TX 78155-9998
Want to be featured in our next Extra AF episode? E-mail your historical experiences, the funny/weird stories from your hometown, a family story or legend, and your true crime/paranormal experiences to historicalafpod@gmail.com!
We have new merch! Mason jars are here and we couldn't be more pumped! They are a Southerner's dream… https://shop.spreadshirt.com/historicalafpod/
To get access to exclusive additional content, join Patreon today at https://www.patreon.com/HistoricalAFPod! Patreon members have early access to the podcast and enjoy benefits like book lists, bucket lists, bloopers, drunk dives, deleted scenes, and more!!
Finally, don't forget to rate and review us on Apple Podcast, Stitcher, Facebook and, the like to help us become more visible! 
Links:
Email: historicalafpod@gmail.com
Instagram: @HistoricalAFPod www.instagram.com/historicalafpod/
Twitter: @HistoricalAFPod www.twitter.com/historicalafpod
Credits:
Artwork by Kyna Stys
Intro & Outro Music by Camilo GP
Hold Music by Lobo Loco-Pianoman Play Sofa Again (Copyright Free Download from Jamendo Music)
Sound Effects from Free Music Archive, Sound Bible, Free Sound, and Fesliyan Studios
Editing by Kyna Stys
Kyna
Nat